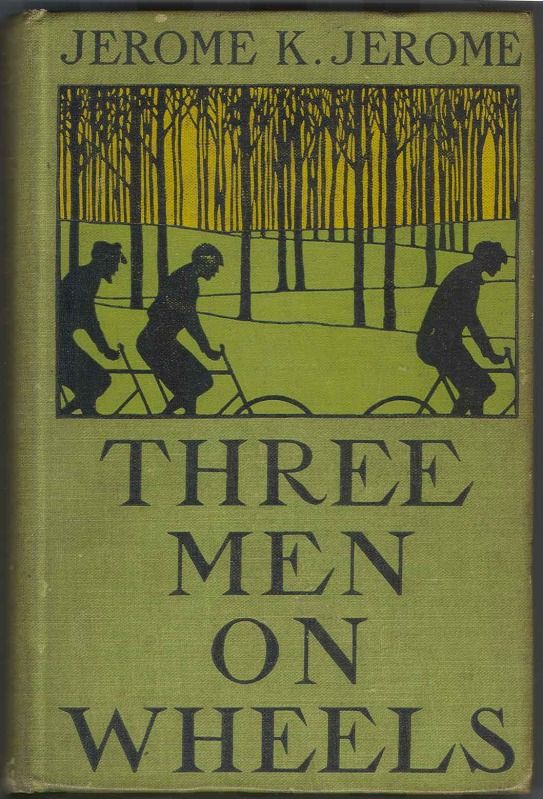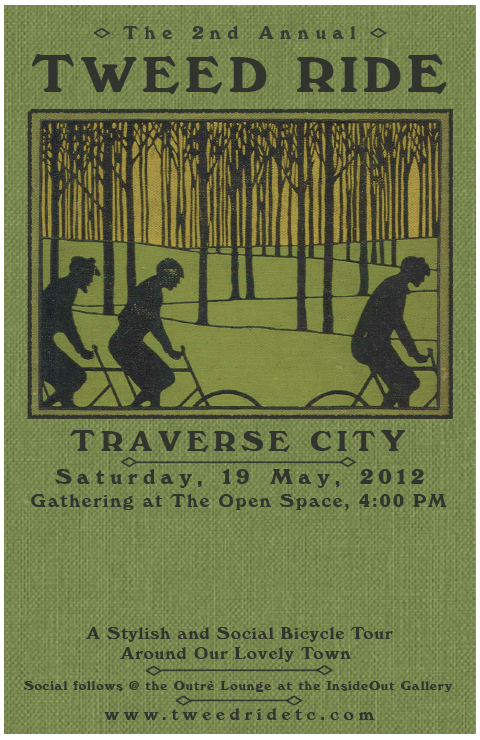 One of the distinguishing features of the international Tweed Ride movement is a growing catalog of wonderful posters. When we started planning for this year's event, our thoughts immediately turned to producing a unique image would that capture the spirit of our enterprise.
This spring our first thoughts turned to finding a vintage cycling themed woodcut. This being the glorious Internet age, a quick Google image search produced the first image above — The hardback cover of the first American edition of Jerome K. Jerome's Three Men on Wheels (Dodd-Mead, 1902).
Originally published in 1898 in Britain as Three Men on a Bummel (bummel being German slang for what we have come to think of as a "roadtrip"), Jerome's novel has its own place on the continuum of masculine journey literature spanning Homer's Odyssey to Apatow's The Hangover. The work is a sequel to Jerome's 1889 bestseller Three Men on a Boat, the misadventures of a Victorian age boating holiday on the Thames by three friends. The success of the original Three Men book is thought to have been responsible for popularizing middle class recreational river boating in England, prompting a fifty percent increase in river boat registrations on the Thames in the years immediately following its publication. Jerome sought to recreate the success of the first novel with the story of a cycling adventure by the same three friends through the Germany of the Kaiserreich. To this day, the book remains a great read in its observations of the trials and tribulations of a touring cyclists, describing truisms about bikes, saddles, and food that you'll hear verbatim today.
Free "Three Men on a Bummel" E-book Download
The above image of the cover comes from an online exhibition of vintage cycling literature from the Lilly Library on the campus of Indiana University, Bloomington — coincidently our alma mater, our hometown, and host of their own Tweed Ride.
Lifting the woodcut image of the heroes of  "Three Men on a Bummel", we sought to recreate the same background by manipulating an image of green bookbinding broadcloth. Adding text in the Windsor typeface, the final result is the poster you'll now find out and about Traverse City and the internet.